EMT's Crane Maintenance and Repair Service – Expertise, Experience, and Safety
EMT is fully insured and provides mobile maintenance for all your maintenance repair needs anywhere in the state of Colorado.
Apart from being costly, crane repair can have an alarming effect on worksite safety if not done correctly. Poor crane maintenance can easily lead to untoward accidents that could have otherwise been prevented. Should anything unfortunate happen, not only will work have to stop, but also, people on site could be injured or worse. As such, having scheduled crane repair and maintenance is vital to minimizing safety and health risks.
Planned Crane Maintenance Service
At Equipment Maintenance Technicians, our goal to make your worksite as safe as possible by ensuring that all your construction equipment is in perfect and safe working condition, and we achieve this through regular inspection and maintenance. A crane is one piece of equipment you always want to keep in top shape. With proactive maintenance, we can keep your crane both safe and in full operation, reducing downtime and increasing productivity. With regular servicing and crane repair, the lifespan of your machinery will also be longer.
An important aspect to consider in managing your crane is coming up with an effective maintenance program. Our factory-trained technicians are experts in this type of work. With a combined experience of over 90 years, they are masters of their craft. Our mechanics will come up with a planned crane maintenance program that considers a crane's usage, operating environment, brand, service history, as well as the recommendations of the manufacturer and statutory regulations for worksite safety. This specialized service includes multi-point inspections to pinpoint wear, tear, and possible weak points, lubricating every major component of your crane, and any needed adjustments or calibrations.
At Equipment Maintenance Technicians, we understand that time is of the essence for our clients. The longer the construction equipment is down and out for maintenance, the more money you're probably losing. As such, our mechanics strive to provide you with the best quality of service and will also try to finish their work as quickly as possible. If it's a job that can't be finished in a day, they will devise a schedule for maintenance so that you know exactly when your crane is ready for full productive use again, and this also goes for when you need full crane repairs.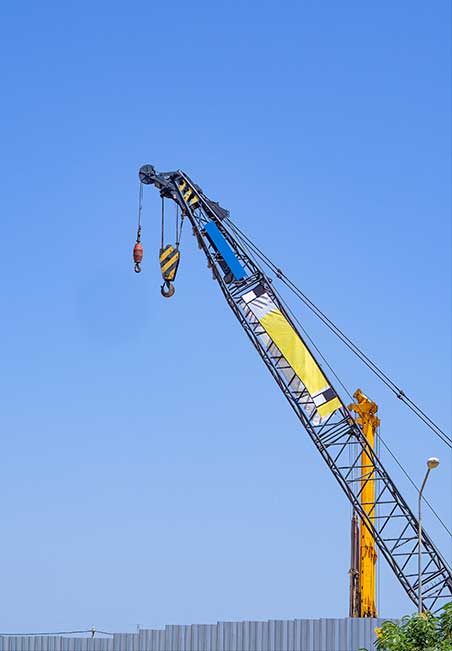 While it's good to be proactive, we can never eliminate the possibility of a breakdown that might need crane repair. As such, our experienced technicians are also ready to assist you with your repair needs. You can either bring your crane to our facility or call us for a mobile crane repair service. Our field service includes the entire Denver metro area, the Front Range, and Fort Collins down to Colorado Springs.
Whatever problem you might encounter with your crane, we are confident that we can bring your equipment back to perfect running condition. With our crane repair, we will be inspecting every inch of your machine to spot the damage. We can also replace any parts if needed. Rest assured that we use and install only original and top-quality parts.
The safety of our clients is the first priority for our mechanics during routine crane repair.
Because of this, once we're done, you can rest assured it will be both fully functional and safe to use.