Crane Repair Services in the Denver, CO, Area
EMT is fully insured and provides mobile maintenance for all your maintenance repair needs anywhere in the state of Colorado.
A crane breaking down mid-project can be summed up in two words: inefficient and costly.
Time is of the essence, and our experts are here to help make the most of yours.
Having served in the industry since 2003, Equipment Maintenance Technicians houses a team of factory-trained technicians who are well-versed in auto crane repair in the Denver, CO, area.
Our commitment to excellence fuels our ambition to maintain our prestige as Colorado's most trustworthy provider of equipment and fleet maintenance and repair. Expect no less than exemplary crane repair services in the Denver, CO, area.
Signs Your Crane Needs Repair
Given the essential role that cranes play, it is crucial to maintain them properly. Although it is recommended for cranes to be inspected at least every 12 months, be vigilant of any signs of failure between said annual inspections.
With adherence to the guidelines set by the Occupational Safety and Health Administration (OSHA), here are some issues our experts for crane repair in the Denver, CO, area can help you with:
Common signs of excessive wear, such as cracking, warping, and stretching, translate to compromised safety and performance. These signs are usually present on certain parts of your cranes, including the welds, drums, sheaves, shifts, rollers, pins, chains, and bearings.
Part of our crane repair services in the Denver, CO, area involves regularly checking these components and repairing them immediately before the damage leads to equipment failure.
In wet or humid environments, your crane's metal components will inevitably corrode. This significantly hampers the crane's integrity; what may start as a speck of rust can quickly elevate into a catastrophe that demands serious attention. In areas closer to bodies of water, even the most minute rust patches may be indicative of far-reaching corrosion beneath the surface.
The compromised integrity of your crane will result in mechanical weakening, electrical shortages, hampered lifting systems, and dropped loads. To avoid this, we offer regular inspections as part of our services, including crane repair near Denver, CO.
3. Broken or Loose Components
Crane parts tend to loosen or break over time. If left unnoticed, these parts may affect your equipment's performance and, eventually, result in equipment failure. For instance, the chain component in cranes eventually wears out and may collapse mid-operation, bearing potentially fatal consequences.
For this reason, our expert technicians who handle auto crane repair in the Denver, CO, area strive to inspect every part for any loose or broken elements.
Leaks usually appear in a crane's engine, hose, and cylinder. If you notice any symptoms, it's imperative to call for our immediate crane repair in the Denver, CO, area.
Otherwise, you may be left to deal with these severe safety and operational concerns:
Engine leaks often lead to issues with regular and emergency shutdown operations.
Hose leaks lead to imminent failure due to the deformation and blistering of the outer covering.
Hydraulic and pneumatic cylinder leaks usually cause drifting.
Why Choose Equipment Maintenance Technicians
Equipment Maintenance Technicians has a combined 90 years of experience in the maintenance and repair of heavy equipment and machinery. We highly value customer service, which is why we provide premium services for crane repair near Denver, CO, at a competitive price.
We strive to keep ourselves up-to-date when it comes to the current trends in equipment maintenance. As a trusted service provider for auto crane repair in the Denver, CO, area, we utilize only the most advanced equipment to carry out accurate and precise services and diagnostics. In addition, we provide continual training for all our in-house technicians.
As a fully insured maintenance and repair service provider, we are experienced with all types of fleet vehicles and construction equipment. Whether you need an annual inspection, preventive maintenance, or crane repair in the Denver, CO, area, trust us to deliver the immediate and reliable services you deserve.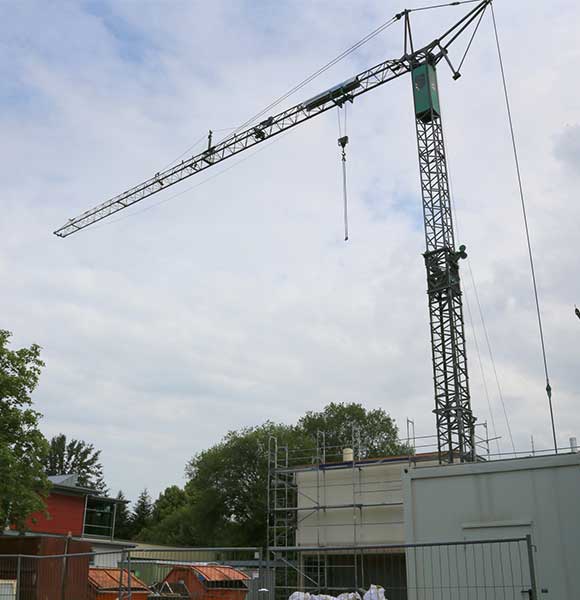 Our Crane Repair Services Near Denver, CO
Our experts for crane repair in the Denver, CO, area offer professional services that eliminate health and safety risks, as well as costly damage from poor crane maintenance.
We aim to make your worksite hazard-free by ensuring your construction equipment is in optimal condition.
Our services for crane repair near Denver, CO, are comprised of:
1. Planned Crane Maintenance
We conduct proactive maintenance to keep your crane in operation. With our effective planned maintenance program for regular crane repair in the Denver, CO, area, you'll have less downtime, increased productivity, and a prolonged lifespan.
Our experienced technicians for crane repair in the Denver, CO, area are ready to accommodate your repair needs, whether you come to our facility or us to you via our mobile crane service.
Partner With Us for Auto Crane Repair Near Denver, CO
Whatever issues your cranes may encounter, turn to us for crane repair in the Denver, CO, area.
As a long-standing equipment maintenance and repair service provider for over 17 years, Equipment Maintenance Technicians is your partner for smooth business operations. We understand that time is of essence to our clients, which is why our factory-trained technicians adhere to an effective repair and maintenance program that saves both your time and money.
For more information concerning our services for crane repair around Denver, CO, contact us today.