Contact EMT for Expert Construction Air Compressor Services
EMT is fully insured and provides mobile maintenance for all your maintenance repair needs anywhere in the state of Colorado.
Are you in need of expert assistance in maintaining or fixing your faulty construction air compressor?
We at Equipment Maintenance Technicians (EMT) can handle portable industrial air compressors and other types. Our well-trained technicians are construction equipment specialists who are professionally skilled in the inspection, maintenance, and repair of various types of machinery and fleet vehicles.
Construction Air Compressor Equipment Maintenance
Air compressors serve a variety of purposes at just one construction site. For machines like this, providing real convenience and function, it is essential that you have someone looking after them and ensure that they remain in top condition. As a company that has been in the industry for over 17 years, we know our way around most construction equipment, air compressors being among them. Maintenance can be tricky due to the complexity of parts and components, so it is advisable to only let the experts manage your portable industrial air compressor and related apparatus.
Our equipment maintenance program can rid you of all the hassle in committing to memory the technical details of your machines or memorizing the step-by-step processes on how to take care of them. We take care of that for you! Our maintenance service sends our team of diesel mechanics to your facility regularly to perform all needed maintenance procedures that can guarantee your construction air compressor remains damage-free and operational.
Construction Air Compressor Equipment Repair
For unavoidable situations when your portable industrial air compressor breaks down, you have our team of experts backing you up. We take pride in our mobile mechanic repair service, which ensures all your construction equipment and fleet vehicles are serviced immediately to avoid any further delay in projects or downtime on site. Instead of transporting your equipment via hauling and towing just to have them repaired at our yard, we will be the ones to go to your location. We guarantee that we will be in the field within 90 minutes of your call.
Our service trucks are fully equipped with the necessary parts and tools that greatly help our repair service provide faster and more efficient results. Whether you're dealing with a defective construction air compressor or a portable industrial air compressor or anything in between, we'll do everything we can to identify the problem quickly and find the best and longest lasting solution possible.
Having an equipment repair service you can trust makes all the difference. You want a team that is honest with you, who understands the importance of uninterrupted operations and keeps on giving you high-quality and swift service year after year. This is what Equipment Maintenance Technicians is all about.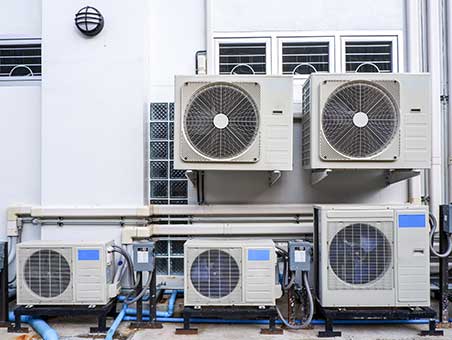 TRUST EMT TO SERVICE YOUR CONSTRUCTION AIR COMPRESSORS
We are fully insured, and we adhere to safety standards and procedures at all times. Let us handle your air compressor and you will never have to worry about its condition again.