Telehandler Repair and Maintenance
EMT is fully insured and provides mobile maintenance for all your maintenance repair needs anywhere in the state of Colorado.
Keep your telehandler in tip-top shape to ensure its longevity and safeguard your productivity.
Due to their versatility, telehandlers are well-known assets in the construction, farming, and agricultural sectors. Telehandlers offer an extensive amount of support for various construction activities. As such, businesses whose operations require the use of telehandlers should want to keep them well-maintained.
For reliable telehandler repair and maintenance services, our experts at Equipment Maintenance Technicians offer quick and effective solutions that ensure the optimal condition of your telehandlers. By putting your trust in our expertise, you can have a smooth-running telehandler to help you with your day-to-day business operations.
Signs That Your Telehandler Forklift Needs Repair
Like any type of material handling equipment (MHE), telehandlers are susceptible to damage without a proper routine maintenance schedule. Maintaining this equipment is essential as faulty telehandlers translate into potential hazards that can negatively impact productivity and safety.
Be on the lookout for the following signs that your telehandler needs repair:
1. Warning Light From Information Panels
Damaged engines, low tire pressure, or a need for an oil change are just some of the issues that you must check when the warning light turns on. The warning light offers the most obvious sign that calls for telehandler maintenance, so you have to pay attention to it in order to have your equipment issues attended to on time. Call maintenance experts to inspect and repair your telehandler.
2. Oil Leaks
Oil leaks are never good news for any equipment. Insufficient oil creates friction and increased temperature that would slowly destroy the internal mechanisms of the telehandler. You'll then be faced with other performance issues like spongy brakes, poor fuel efficiency, and difficulty steering. If you notice oil stains on the ground beneath your parked telehandler, check your oil levels to assess how bad the leak is.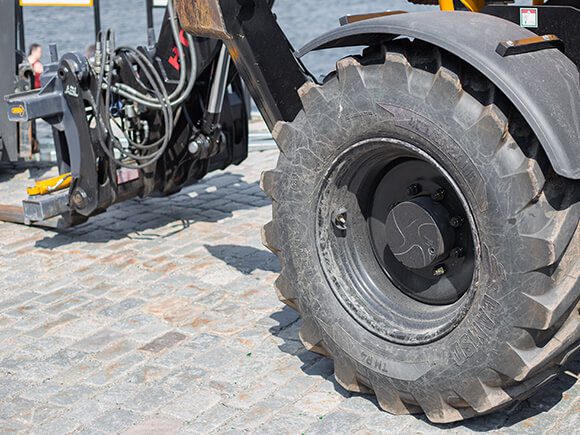 3. Damaged Chain
Any sign of corrosion, kinking, rust or chain elongation indicates the need for telehandler repair or replacement. Chains are important components of a telehandler's internal mechanism. Without proper inspection, you might miss out on early warning signs of damage. Eventually, this could cause interruptions in your work operations. To prevent this, hire experts for telehandler maintenance to check for wear on your telehandler's chains.
4. Bent Forks
Forks are essential to telehandler operation, specifically for holding the load's weight. Depending on the load and frequency of use, forks can get damaged, and without swift action, bent forks could cost you your productivity. Pay attention to any sign of bending, surface cracks, or misalignment in your forks, and have them serviced immediately.
Our Telehandler Repair and Maintenance Services
Our team understands the need to have telehandlers maintained to make the most of their utility. Whether you need immediate repair services or scheduled preventive maintenance, our technicians can help you stay proactive in addressing issues and preventing others from occurring in the future.
Below are some of our telehandler repair and maintenance services:
WE HANDLE MOST TYPES OF FORKLIFTS, INCLUDING:
WE ARE ALSO FAMILIAR WITH THE FOLLOWING MATERIAL HANDLING BRANDS:
Contact Equipment Maintenance Technicians Today!
For expert telehandler maintenance and repair services, choose Equipment Maintenance Technicians!
With over 17 years of experience, we have dedicated ourselves to bringing out the best in your material handling equipment. With a team of well-trained experts in the field, we offer infallible solutions that guarantee long-term peak performance on all equipment serviced. With our help, you'll have effective and immediate solutions for your telehandler repair and maintenance needs.
Visit us at 13780 E. Smith Drive Aurora, CO 80011. We are open from Monday to Friday, 7 AM to 5 PM. For emergency repair and maintenance needs, you can schedule our weekend and after-hour services upon request. For inquiries, call 720-949-2052 or email [email protected] today.