Semi-Truck and Tractor Repair and Maintenance
EMT is fully insured and provides mobile maintenance for all your maintenance repair needs anywhere in the state of Colorado.
Prevent breakdowns and damage by calling in reliable technicians for semi-truck and tractor repair and maintenance.
Being involved in heavy-duty hauling operations, semi-trucks become susceptible to damage and breakdowns without proper maintenance and care. Many business operations are hampered because of neglect. By having them maintained and inspected by certified technicians like our team at Equipment Maintenance Technicians at least once a year, the risks of downtime can be reduced.
At Equipment Maintenance Technicians, we provide semi-truck repair and maintenance services to keep commercial trucks running optimally. We understand that the importance of semi-trucks in various business operations cannot be overstated. This drives us to provide fast and reliable responses to address damage and breakdowns.
Common Causes of Semi-Truck and Tractor Issues
To prevent business operations from getting delayed, it helps to know common issues with semi-trucks and tractors for prevention and safety purposes.
The four most common causes of issues are the following:
Care Tips for Semi-Trucks and Tractors
While the average lifespan of semi-trucks and tractors ranges from 10 to 15 years, it can still vary depending on maintenance and use.
To keep them running smoothly, here are a few tips to follow:
Why Choose Equipment Maintenance Technicians
We at Equipment Maintenance Technicians have been the go-to provider of premier mobile fleet and truck repair and maintenance services for nearly two decades. Our expertise and experience are what set us apart from the other providers of such services. Every mobile fleet and truck entrusted to us is handled with the best care. By choosing us, you can rest assured that your trucks will be back to working optimally as soon as possible.  
Our Semi-Truck and Tractor Maintenance and Repair Services
Our highly-trained technicians have extensive experience in providing semi-truck and tractor repair and maintenance services. They undergo constant training as a part of our commitment to providing top-notch services. Here are only some of the things that we can help you with: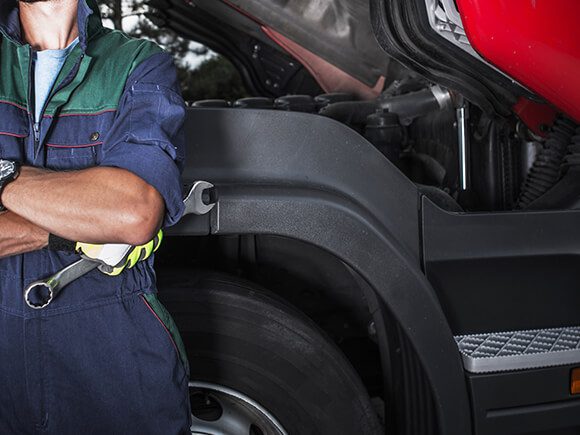 We handle most types of fleets, including:
We are also familiar with the following fleet brands:
With Equipment Maintenance Technicians, expect a quick response. We understand how important semi-trucks and tractors are for various operations, so we act with urgency to restore them to their optimal performance and condition. When you contact us for help, we'll be there within 90 minutes. If you have any inquiries or questions about our semi-truck and tractor repair and maintenance services, call us at (720) 949-2052. Contact us today!