Vertical Mast Lift Repair and Maintenance
EMT is fully insured and provides mobile maintenance for all your maintenance repair needs anywhere in the state of Colorado.
When you encounter problems with your vertical mast lifts, there's no need to delay a day's work.
Nothing's more frustrating than running into problems with your equipment. The good news is that our team at EMT is here for you! We'll be the one to handle any repairs and maintenance concerns. Don't wait for problems to arise before you call us. With EMT, your company's operations will continue at peak efficiency.
When you check the manufacturer's manual, you'll see that this equipment should undergo inspection and maintenance on a quarterly, bi-annual, and annual basis. This is where our technicians come in. With routine maintenance, they're guaranteed to last for a long time. You will have peace of mind knowing there will be no unexpected breakdowns.
Equipment Maintenance Technicians provides seamless vertical mast lift maintenance and repairs. With almost two decades of service, we'll have your equipment up and running seamlessly in no time. You'll be back and ready to resume business operations right away.
Hazards When Operating This Type of Equipment
Be aware of the common hazards and risks you might encounter when operating this equipment. This will help you maintain safe and smooth operations.
Tips From EMT Professionals
To have a safe workplace and to guarantee that your equipment will serve your company for years to come, do the following:
Inspection List For Vertical Mast Lifts
Here are some inspection tips from EMT's industry experts:
Our Vertical Mast Lift Maintenance and Repair Services
No matter what the problem is with your equipment, our trained technicians are at your service. EMT remains one of the top go-to providers of repair and maintenance for many businesses. Our expert technicians undergo training to enhance and refine their skills in repairing and maintaining a wide array of construction equipment. Here's what our team does:
Our team at EMT knows how to get your driveable and push around vertical mast lift working optimally. When you choose us, you'll be carefree knowing your equipment is running at peak performance.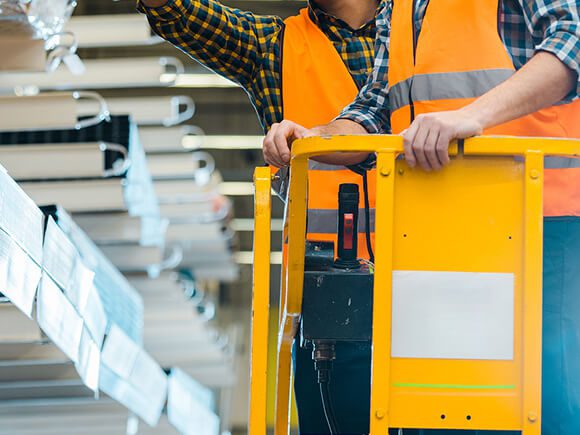 We handle most types of aerial lifts, including:
WE ARE ALSO FAMILIAR WITH THE FOLLOWING Aerial lifts BRANDS:
Contact EMT For Any Vertical Mast Lift Repair and Maintenance Needs
With 17 years of experience in the industry, we guarantee you impeccable results. We provide our services in the field or in our facility. Our trucks are fully equipped with most parts and components needed for general repairs. With us, you'll get back to your full operation in no time!
We are well-versed when it comes to various brands of aerial lifts such as Snorkel, JLG, Upright, and Genie. We're easily reachable via phone call. Call us at (720) 949-2052 to learn more about our services. We can't wait to be of service to you and your aerial lift equipment!