Towable Lift Maintenance and Repair
EMT is fully insured and provides mobile maintenance for all your maintenance repair needs anywhere in the state of Colorado.
At Equipment Maintenance Technicians, we have the skills, years of expertise, and knowledge to handle any concerns you have with your equipment.
 If your business operations rely on towable lifts, it's important that your equipment is maintained properly. This is to avoid untimely breakdowns and stoppage of operations. When your equipment starts to malfunction, bring your towable lift to experts who are capable of doing the necessary repairs, like our team at Equipment Maintenance Technicians.
Any issues with your equipment can be easily addressed by our team. Your towable lift is in good hands when you choose Equipment Maintenance Technicians. With our maintenance program, you're guaranteed to have reliable pieces of equipment promptly.
Work Zone Inspection List
Inspect the area before you proceed with the operation of the equipment. In doing so, you're guaranteed to have a safe work environment.
Here are some of the common hazards to watch out for:
Maintenance Tips For Your Equipment
This machine should last you for 30 years or more with regular routine maintenance. Here are some towable lift maintenance tips from our factory-trained technicians:
Perform regular fluid checks. To guarantee efficient performance, check the hydraulic, gas, brakes, and other fluids. Maintaining them at the right level is a must.
Check the tire pressure. Underinflated or overinflated tires will compromise the safety of the personnel. Make it a habit to check the tire and wheel pressure, especially in rough terrain.
Examine the lift after every task. This practice will save you from serious and costly damage to your equipment.
Put your inspections in writing. Keeping a detailed record of your equipment after every inspection, maintenance, and repair is advisable. Proper documentation will make it easier to pinpoint the cause of your equipment breakdown.
Hire a reliable team of factory-trained technicians. To avoid costly repairs and severe damage to your equipment, you should have professional mechanics conduct routine maintenance checks on a regular basis.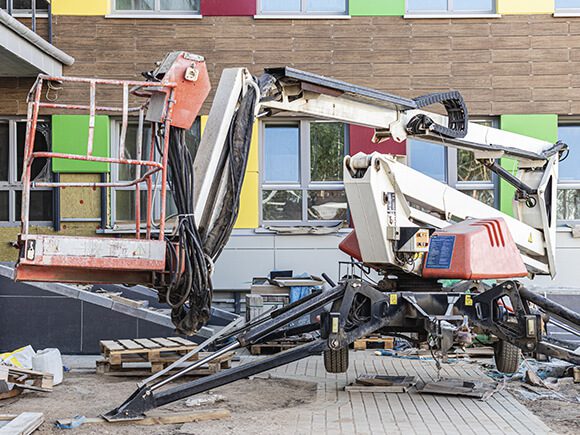 Why Hire Equipment Maintenance Technicians
At EMT, we provide a wide array of repair and maintenance services. We're the ones to trust when it comes to your equipment. Our technicians undergo training to provide our clients with top-notch services. We are well-equipped with most parts and components, so we get the job done right away. With us, your operations will be running smoothly.
Our Towable Lift Repair and Maintenance Services
Being industry experts, we keep up with the changing demands of the industry. Our repair and maintenance services include the following:
We handle most types of aerial lifts, including:
WE ARE ALSO FAMILIAR WITH THE FOLLOWING Aerial lifts BRANDS:
Call Equipment Maintenance Technicians for Any of Your Towable Lift Repair Concerns!
We've attended to different equipment concerns–our team services equipment in our facility or in the field. Give us a call, and our team will arrive on your site within 90 minutes. We will get your business's towable lift functioning in no time. Our mobile mechanic service is easily reachable via phone call at 720-949-2052. Reach out to us today!