Warehouse Forklift Repair and Maintenance
EMT is fully insured and provides mobile maintenance for all your maintenance repair needs anywhere in the state of Colorado.
Keep your warehouse forklift in tip-top shape to ensure smooth long-term operations.
Without proper care and handling, warehouse forklifts introduce serious workplace hazards. A faulty forklift can cause accidents that affect both drivers and pedestrians. The Occupational Safety and Health Administration (OSHA) reckons that around 110,000 forklift-related accidents occur every year, and an American worker is faced with fatal consequences in these accidents every three days. With all the risks stated, OSHA requires daily inspections of all forklifts. Planned maintenance is key to ensure the optimal performance of your forklifts.
At Equipment Maintenance Technicians, we understand the importance of keeping Material Handling Equipment (MHE) in optimal condition. With more than 17 years in the business, our company guarantees knowledge and expertise in handling various types of MHE. We employ well-trained professionals who are proficient in the repair and maintenance of different categories of forklifts, including warehouse forklifts.
Signs Your Warehouse Forklift Needs Repair
1. Oil and Fluid Leaks
Forklifts require several types of oils and fluids to lubricate various systems and components to keep them functioning. With insufficient oil and fluids, mechanical parts may start to rub and scratch against each other and potentially chip off microscopic pieces of metal, which can act like sandpaper and accelerate the wear and tear of the internal components of your forklift. It's important to watch out for oil leaks or fluid leaks to prevent this from happening.
Regular inspections and maintenance will allow you to spot fluid leaks. If you see oil spots on the floor, have your warehouse forklift repaired immediately.
2. Damaged Mast Chains
Chains are essential to keep your warehouse forklift's mast stable. Running your forklift with a worn-out chain could result in machine failure. Rust, kinking, and corrosion are physical signs that you need to replace your forklift mast lift chains immediately. Failure to have them replaced can damage your forklift's internal mechanisms, causing it to seize up during operations. In worst cases, damaged mast chains can immediately drop the heavy load, leading to serious injuries and costly repairs.
Maintain a safe work environment by having your mast chains checked regularly. Keep an eye out for areas that have rust and tangles, and have them serviced by a warehouse forklift repair expert immediately.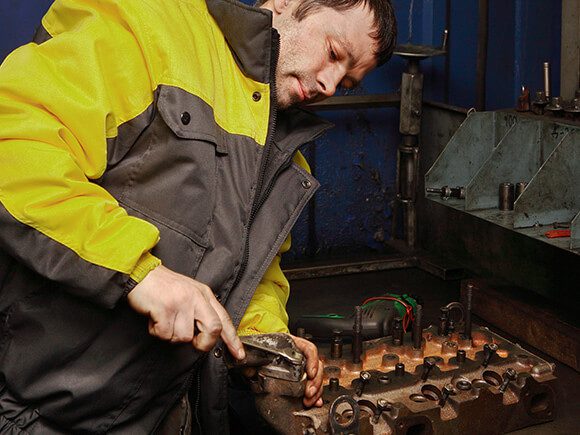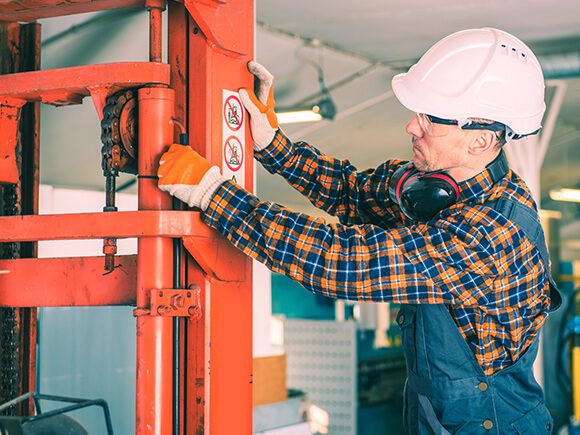 3. Warped Forks
Forks can become distorted or warped over time. Damaged forks lead to unbalanced loads, which can incur unwanted financial and safety costs from broken products and injured workers.
If you notice bending on one or both forks, hire an experienced heavy equipment technician to inspect your equipment.
4. Mast Sticking
The warehouse forklift mast is crucial for the equipment's operation. It facilitates the lifting of the heavy load in a smooth up-and-down motion. They are directly connected to the machine's hydraulic system. Thus, it is important for them to be well-oiled to prevent seizing up during lift operations.
Failure to do so could cause damage and injuries if the mast jerks to one side and the load falls off the forks and mast. To prevent this, make sure that the mast is well-lubricated.
Our Warehouse Forklift Repair and Maintenance Services
At Equipment Maintenance Technicians, we offer regular warehouse forklifts maintenance, repairs, and checkups to get your equipment back on track in no time. Our expert technicians offer immediate help and preventive maintenance procedures on all valuable machines to make sure your business operations run smoothly.
Below are some of our services for your repair and maintenance needs:
WE HANDLE MOST TYPES OF FORKLIFTS, INCLUDING:
WE ARE ALSO FAMILIAR WITH THE FOLLOWING MATERIAL HANDLING BRANDS:
Hire Our Repair and Maintenance Experts at Equipment Maintenance Technicians
As a long-standing company in the industry, we have continuously fulfilled our mission to gain the trust and confidence of our clients through outstanding customer service.  With the superior skill level and training of our technicians, rest assured that your warehouse forklifts are in good hands. You can find us at
13780 E. Smith Drive Aurora, CO 80011
. We are open Monday to Friday from 7 AM to 5 PM. Our weekend and after-hours services are available upon request. For inquiries or service requests, send us an email at
[email protected]
or call
720-949-2052
today.