Straight Mast Forklift Repair and Maintenance
EMT is fully insured and provides mobile maintenance for all your maintenance repair needs anywhere in the state of Colorado.
Material handling equipment like forklifts requires regular maintenance and inspection to avoid delayed business operations.
Forklifts are essential for smooth-running operations. If your MHE equipment lags behind the important benchmarks, chances are your company is faced with lost hours, delayed production, and huge financial costs.
Following the manufacturer's recommended maintenance schedule is crucial to having a well-maintained straight mast forklift. Just like that of any forklift, the maintenance for straight mast forklifts is done either monthly or annually, depending on manufacturer recommendation, frequency of use, and workload. In addition, the Occupational Safety and Health Administration requires daily inspection of all straight mast forklifts before operation.
Hiring professionals like Equipment Maintenance Technicians for your straight mast forklift's planned maintenance will help you keep your material handling equipment in good condition and allow for uninterrupted business operations. As a reliable straight mast forklift repair and maintenance service provider, Equipment Maintenance Technicians offers immediate and effective solutions that are tailored to your needs.
Signs Your Straight Mast Forklift Needs Repair
Damaged Lift Chains – With proper maintenance and lubrication, forklift chains can operate for approximately 6,000 hours. However, damaged chains pose major risks for business operations. If you notice rust, kinking segment, corrosion, and damaged links, bring your straight mast forklift for immediate repairs. Failing to take necessary actions to replace or repair your forklift chains can potentially damage your equipment's internal mechanisms. Prevent this from happening by conducting regular inspections.
Distorted Forks – Over time, forks lose their shape and bend. A distorted fork becomes a liability for your business as it can be the cause of damaged goods and safety issues for forklift drivers and pedestrians. No matter the cause, this calls for the attention of immediate repair and replacement.
Fast-Draining Battery – You should charge batteries when they are in the 20 to 30 percent battery life range to maximize their life span. Otherwise, they may not hold a charge quicker than they normally do. Other signs of battery problems involve flickering display lights and low response time. Problems that occur in the battery itself can lead to smoke and acid corrosion.
Stuck Mast – It is necessary to have the mast well-lubricated for smooth performance. Otherwise, its mechanism may jolt as you drive, which could be the cause of serious load damage or injuries.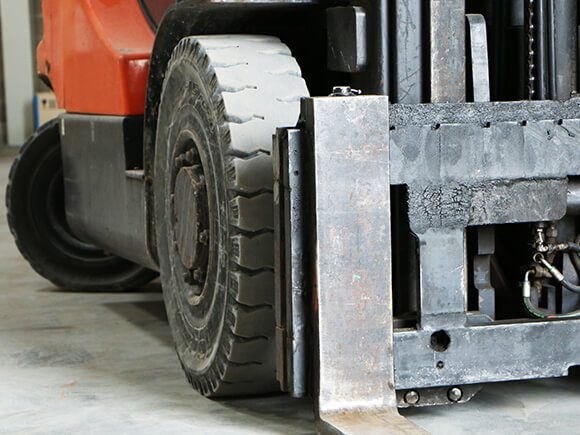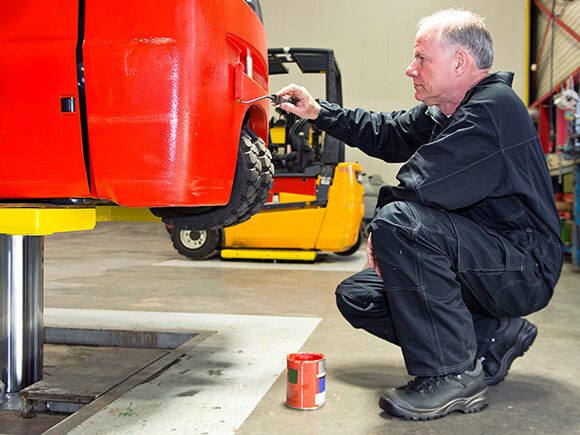 Our Straight Mast Forklift Repair and Maintenance Services
Our team at Equipment Maintenance Technicians offers nothing less than quality service for routine inspection, repair, and maintenance. Whether you need immediate services for emergency repair or scheduled preventive maintenance to ensure the day-to-day condition of your straight mast forklifts, we are here to help.
Below are some of our straight mast forklift maintenance and repair services:
WE HANDLE MOST TYPES OF FORKLIFTS, INCLUDING:
WE ARE ALSO FAMILIAR WITH THE FOLLOWING MATERIAL HANDLING BRANDS:
Schedule Our Forklift Maintenance and Repair Today
With over 17 years of experience, Equipment Maintenance Technicians has surpassed expectations for straight mast forklift repair and maintenance services. With a team of dedicated experts to conduct our services, we guarantee a smooth-running MHE for your business operations. Our team offers immediate services and well-executed planned services to accommodate your needs for regular inspection and maintenance. Visit us at
13780 E. Smith Drive Aurora, CO 80011
from Monday to Friday, 7 AM to 5 PM. For emergency services, our weekend and after-hour services are available upon request.  For inquiries and service requests, call
720-949-2052
or email us at
[email protected]
today.