Bucket Truck Repair
and Maintenance
EMT is fully insured and provides mobile maintenance for all your maintenance repair needs anywhere in the state of Colorado.
Avoid delays in your operations by bringing in your bucket truck for repair and maintenance with certified technicians.
Bucket trucks are used for aerial tasks in various industries, such as construction, electric utility, telecom, and fire rescue. As such, many operations can be put on hold when they break down or malfunction. To reduce the risks of downtime, they must be inspected and maintained regularly. Per the American National Standards Institute (ANSI), bucket trucks must be brought in for inspection annually. This helps spot deteriorated parts that need replacement and catch minor issues that can cause breakdowns. Because bucket trucks carry people performing aerial tasks, it is crucial to have them inspected for your workers' safety.
We at Equipment Maintenance Technicians have reliable technicians who provide thorough inspections for a wide variety of mobile fleets and trucks, bucket trucks included. Additionally, we provide repairs and maintenance to keep them in good condition for various operations. We understand that bucket trucks are essential for smooth operations, so we provide quick and appropriate responses for every bucket truck issue.
Common Causes of Bucket Truck Issues
To avoid delays in aerial operations, it helps to know what components usually cause breakdown and damage. 
While downtime is not always predictable, look at these following components to prevent minor issues that could lead to serious ones:
Hydraulic Pump – They allow components such as the suspension and braking systems to function. With hydraulic pumps being used as a major part of the bucket truck, leaks would cause downtime and hinder operations.
Tires and Wheels – Most roadside failures in trucks are caused by tire failures. Some of the most common issues related to failures are misaligned axles, low tread depth, and underinflation. The alignment of wheels is also among the most common issues that prevent bucket trucks from running smoothly.
Electrical Systems – Battery, alternator, and starter motor are the components that make up a truck's electrical system. When one of these malfunctions, the others follow suit, causing trucks to experience downtime.
Faulty Brakes – The brake system needs to be inspected every six months, and the brake pads need replacement every 50,000 mileage. Since brake systems of crane trucks are often exposed to friction and pressure, they become susceptible to wear and tear over time. Not only do faulty brakes cause trucks to break down, but they also are a major cause of accidents.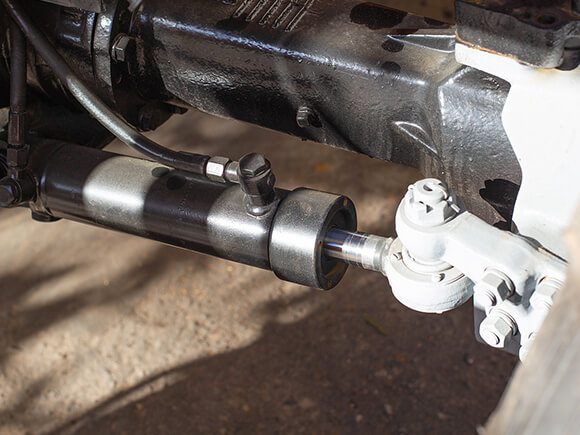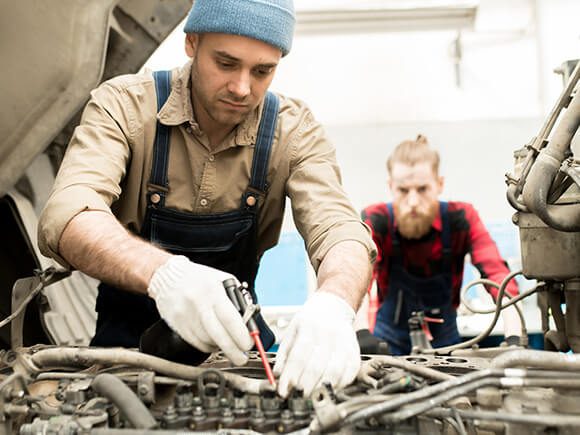 Care Tips for Bucket Trucks
With proper maintenance, bucket trucks can last for up to 15 years. Practice the following tips to ensure that they will be useful until the last days of their life expectancy:
Follow the Manufacturer's Recommendations and Guidelines – Every truck comes with guidelines and recommendations to promote longevity and ensure safety during operations. See to it that you follow these guidelines to the letter.
Conduct Pre-Trip, en-Route, and Post-Trip Visual Inspections – To avoid roadside failures, conduct a round of inspection of the accessible parts before and after every trip, and a quick inspection during stopovers as well.
Stay Up to Date on Routine Maintenance – Be sure to have a regular schedule for maintenance with certified technicians. This ensures that your truck is in good shape for future operations.
Why Enlist Our Repair and Maintenance Services
We at Equipment Maintenance Technicians focus on providing services with the highest degree of quality. Our technicians undergo regular training to uphold the quality of our work, and we utilize state-of-the-art equipment for accurate diagnostics and services.  
With almost two decades of experience, our expertise is unparalleled. When you choose us, it is guaranteed that your mobile fleets and trucks will be handled with the best care.
Our Box Truck Maintenance and Repair Services
With the wide range of services we provide, you can rely on us to fix the problem regardless of the cause. Some of our services are the following: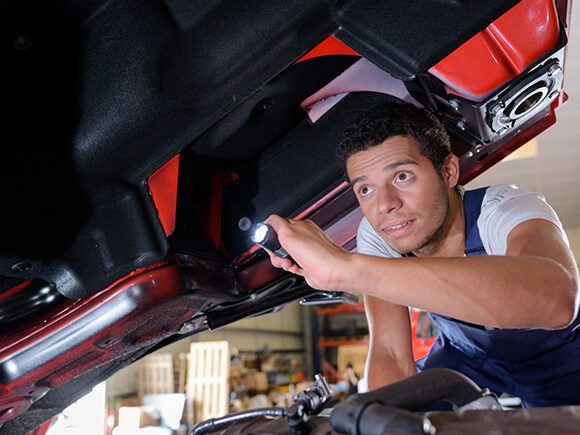 We handle most types of fleets, including:
We are also familiar with the following fleet brands:
Call Equipment Maintenance Technicians Today
At Equipment Maintenance Technicians, we act with urgency. When you seek help from our highly-trained technicians, we make sure to be there within 90 minutes to fix the problem. Choosing us guarantees that your bucket trucks will be back to their prime condition in no time. For any inquiries and questions about our repair and maintenance services, call us at
(720) 949-2052
.