Trusted Fleet Repair
in Colorado Springs, CO
EMT is fully insured and provides mobile maintenance for all your maintenance repair needs anywhere in the state of Colorado.
The key to successful business operations is on-time services.
Maintaining your fleet guarantees they'll be at peak performance 24/7. Fleets are built with durability in mind. With many unforeseeable circumstances that may delay your operations, there's one thing you can manage: your fleets.
Calling experts for mobile truck repair is crucial as routine maintenance lengthens the lifespan of any equipment. When it comes to truck repair in Colorado Springs, CO, Equipment Maintenance Technicians has you covered.
Subjecting your fleets to scheduled preventive maintenance and repairs even for minor damage is essential for different reasons, including:
increasing overall safety;
meeting the regulations set by the Department of Transportation;
avoiding untimely and costly repairs.
We provide comprehensive fleet repairs in Colorado Springs, CO. Have your fleets serviced once they reach 10,000-20,000 mileage. Our team of experts is available whenever you need truck repair.
Signs It's Time to Call for Fleet Repair Services
Equipment Maintenance Technicians has been providing top-notch mobile truck repair in Colorado Springs, CO, since 2003. Our factory-trained technicians have attended to various fleet issues for businesses whose operations rely on timely deliveries.
As a trusted provider of fleet repair services, we know the signs your truck needs servicing.
Here are some indications to keep an eye out for:
If you notice a change of color in your exhaust emissions, your truck is due for a trip to a nearby truck repair shop.
Here are the possible smoke colors and what they mean:
White: This could mean the coolant is leaking into the engine or your fleet is not burning enough fuel.
Gray or Blue: This could mean there are leaks along the critical seals or the oil is burning in the engine.
Black: This could mean you have malfunctioning fuel injectors.
Once you see a slight change in your truck's emission, bring it to our truck repair shop in Colorado Springs, CO, right away. The sooner the problem is addressed, the better.
2. Faltering Fuel Economy
Another telling sign that your trucks are due for a fleet repair is when there is a significant increase in the resources you spend to fill up the tank.
This could mean any of the following:
Clogged air filter
Damaged sensors
Malfunctioning fuel injectors
Save yourself from costly gas and repair expenses by calling in experts for professional fleet repair solutions in Colorado Springs, CO.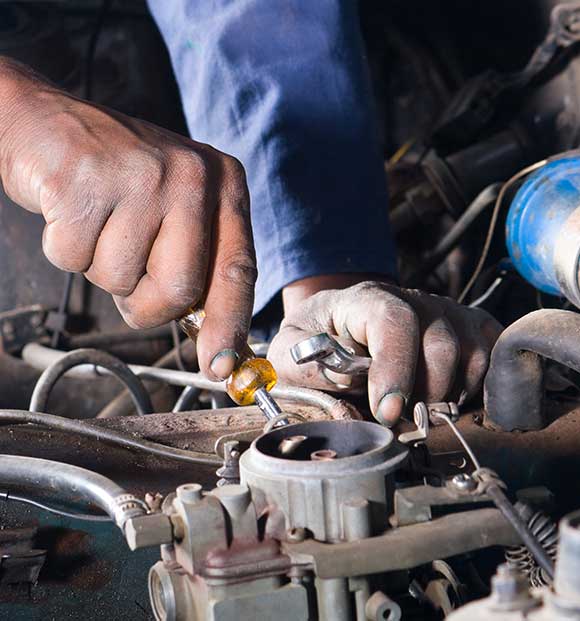 Trucks have a significant size difference from passenger vehicles. Because of this, they're more susceptible to on-road mishaps. If you notice difficulty or unusual vibrations when turning, bring it to our truck repair shop in Colorado Springs, CO.
Turning troubles indicate tire misalignment or damage. Professional mechanics can fix the problem on time. Have peace of mind knowing your fleets are safe to drive.
When passenger vehicles have leaks, more often than not, it's nothing alarming. On the other hand, industrial trucks should never have anything leaking out of them. If you notice a puddle of liquid underneath your truck, call in our team of experts for semi-truck repair in Colorado Springs, CO. 
The common leaks in big rigs are transmission fluid, coolant, power steering fluid, and engine oil. A minor leak can become a major problem if left unaddressed. Let us inspect your fleets at our truck repair shop.
Why Choose Equipment Maintenance Technicians
With several truck repair shops in Colorado Springs, CO, we're here to say we are one of your top options. Equipment Maintenance Technicians has the necessary years of expertise and knowledge with the best tools and equipment to do repairs and maintenance. We have 90 years of combined expertise on top of decades of service.
When it comes to your trucks, we have you covered. We will show you how much we value customer experience as our goal is to build a long-term relationship with our clients. We also provide free inspections and have a team ready to travel to your location.
Our Fleet Repair Services in Colorado Springs, CO
Our team provides comprehensive repair and maintenance services. No matter what the problem is, we'll take care of it.
Here are some services we provide:
Brake Inspection
Tire Inflation
Lube and Oil Change
Filter Replacement
Engine Overhaul
With our preventive services and repairs, operational delays are things of the past.
Entrust your fleets to our factory-trained mechanics. Get quality results when you choose our truck repair shop in Colorado Springs, CO. Call us today!