Trailer Repair in Colorado Springs, CO
EMT is fully insured and provides mobile maintenance for all your maintenance repair needs anywhere in the state of Colorado.
Planned maintenance plays a major role in the performance and lifespan of your trailers.
With Equipment Maintenance Technicians' trailer maintenance, your trailer is in good hands. Scheduled maintenance allows you to operate your trailers without hassle. Our team at EMT is here for you.
The manufacturer manual details the maintenance requirements of your trailer. Following it guarantees continuous operations. EMT can attend to your needs for maintenance every six months.
If you need trailer maintenance in Colorado Springs, CO, EMT has you covered. When you call us, we'll be there for you within 90 minutes. Our trucks are equipped with most parts and components to finish the job promptly.
Signs Your Trailer Needs Repairs
Your trailer will show signs that you need trailer repairs. Equipment Maintenance Technicians has been providing quality maintenance and repair services since 2003. Our team has rescued business owners from untimely breakdowns and uninterrupted operations.
Here are some signs you need trailer repairs:
Worn brakes make squealing sounds. If your trailer brakes do this, there's no time to waste. Bring your trailer for trailer repairs near Colorado Springs, CO, right away. Prevent roadside accidents and breakdowns when you bring your trailers to EMT.
Know that unusual sounds when stepping on your brakes means emergent. It doesn't matter if the trailer is new or not. Once you hear squealing sounds as you slow down, call for truck repair services immediately. Doing so spares you from costly repairs or replacements.
2. Faltering Fuel Economy
It's natural to see signs of wear and tear over time. Another telltale sign that your trailer is due for trailer maintenance is when the fuel economy falters. If you use more resources to fill up the tank, then it's time to call expert mechanics to check.
This problem can happen due to the following:
Damaged sensors
Faulty fuel injectors
Clogged filters
Let our factory-trained mechanics inspect and repair your trailer, if necessary.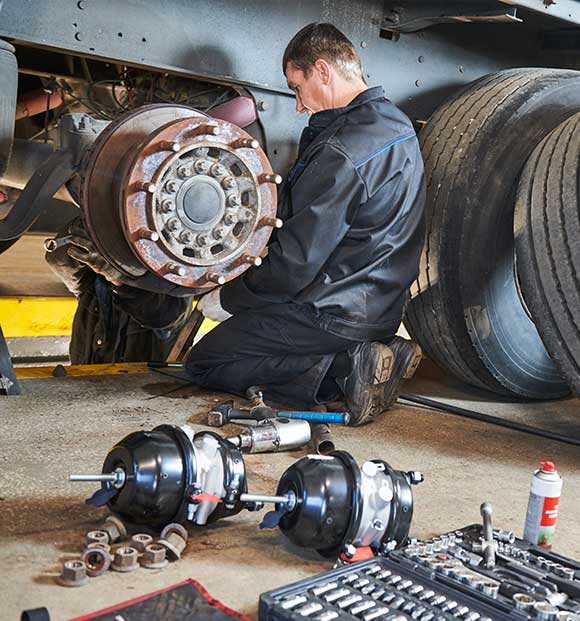 Allow professionals to check leaks from your trailer. If you suspect leaks, call EMT right away. Low fluid levels may result in a damaged engine or transmission, causing delays and breakdowns.
We know the importance of continuous operations, so you can expect us to be in your facility within 90 minutes. With EMT's trailer repairs in Colorado Springs, CO, you'll be back on the road in no time.
If you need to exert a little more force when turning or maneuvering your trailer, you need to bring it to mechanics for servicing. As a responsible owner, subjecting it to scheduled trailer maintenance in Colorado Springs, CO, is essential.
You might experience maneuvering troubles when…
…there's damage to your trailer's axle.
…there's a problem with the engine.
…there's damage to the connecting switch.
Keep your personnel and other motorists safe. EMT can save you from costly repairs and accidents.
Why Choose EMT For Trailer Repairs
Equipment Maintenance Technicians' services will never disappoint when it comes to your trailers and other heavy equipment. We are dedicated to providing our clients with maintenance and repair services in the Colorado Springs area that never disappoint.  
At EMT, we provide an initial and free inspection for our clients. We want to show you how we do what we do. As the leading repair shop in Colorado, we're confident in the quality of services we provide.
Our Maintenance and Repair Services
With our team of professionals at EMT, you don't have to look anywhere else. Our comprehensive trailer repairs in Colorado Springs, CO, guarantee expert handling of every issue. Our services include the following:
Trailer Wall Repairs
Periodic Trailer Maintenance
Hydraulic Repairs
Alignment and Suspension Inspection and Repair
Brake Component Adjustment and Repair
Electrical Light Diagnostics
When it comes to your trailer, only trust the experts with the experience and skills.
Equipment Maintenance Technicians is here for you, your trailer, and other heavy machinery. Contact us today for trailer repairs in Colorado Springs, CO!