Repairs for Material Handling Equipment in Colorado Springs, CO
EMT is fully insured and provides mobile maintenance for all your maintenance repair needs anywhere in the state of Colorado.
Not all material handling equipment is designed equal, but we make sure your material handling systems in Colorado Springs, CO, stay in tip-top shape.
Your material handling equipment (MHE) is an important part of keeping your business operations running smoothly. In general, performing preventive maintenance and repairs on your equipment is one effective strategy to ensure you steer clear of any reliability and safety issues.
Whether your equipment needs routine maintenance, regular checkup, or immediate repairs, Equipment Maintenance Technicians can help you get back into full operation in no time. We offer immediate and scheduled preventive maintenance as part of our services for material handling in Colorado Springs, CO. With our help, your material handling equipment will be kept in optimal condition.
Signs Your Material Handling Equipment Needs Repair or Replacement
Even if the repairs needed are minor, your equipment's downtime may cost valuable operation hours, which is impractical for developing commercial set-ups. Take note of the following signs you need our repair services for material handling in Colorado Springs, CO.
Leaking hydraulic or coolant oils are clear signs of issues across all types of material handling systems. It usually occurs in multiple areas of your equipment—with the most common being its hoses, hydraulic arms, or fluid transmission systems. Given that a lot of dashboards come with flashing signal lights for low-fluid, it's relatively easy to spot low fluid levels. Still, it pays to check the liquid components manually.
If machine parts are not sufficiently lubricated, they will end up needing repairs. Note that these repairs are costlier compared to any other preventive maintenance.
Severe Abrasion and Corrosion
Material handling equipment is typically designed to hold out against harsh environmental conditions. However, regularly moving and lifting goods from one point to another can damage various parts of the equipment over time. The damage that specifically compromises your equipment's structural integrity involves corrosion and abrasion. If your forklift parts, chain links, ropes, or slings suffer from this type of damage, they may end up breaking unknowingly. If it's beyond repair, however, it's best to replace faulty equipment.
Part of our services for material handling in Colorado Springs, CO, involves checking all filters in your equipment to assess if replacement is needed. Air filters, hydraulic filters, and fuel filters keep unwanted substances out of your equipment. If left unchecked, these unfiltered substances can hamper your devices' efficiency and cause them to break down. To avoid this, you need to change them on a regular basis.
Why Choose Equipment Maintenance Technicians
Equipment Maintenance Technicians earns the prestige as Colorado's most trusted service provider of equipment and fleet repair and maintenance. We are conveniently located in Castle Rock and Aurora and also offer field services in the entire Denver Metro Area, Fort Collins, the Front Range, and down to Colorado Springs.
With a combined 90 years of experience in the repair and maintenance of heavy equipment and machinery, we stay committed to utilizing only the most advanced equipment for accurate and precise services and diagnostics. We make sure to keep ourselves up-to-date with the current trends in equipment maintenance and provide continual training for all in-house technicians.
We strive to uphold excellent customer service, which is why we offer no less than the best services for all types of material handling equipment in Colorado Springs, CO, at a competitive price.
As a fully insured repair and maintenance service provider, we pride ourselves on an in-depth experience with all types of fleet vehicles and construction equipment. Whether you need immediate repairs or scheduled routine preventive maintenance, partnering with us will help you achieve timely and reliable services that you can trust.
Our Material Handling Equipment Maintenance and Repair Services
You want to stay proactive when it comes to maintaining your material handling equipment's condition. At EMT, we understand how your MHE is important to your day-to-day operations. To help keep your business operations smooth, we offer maintenance and repair services for material handling in Colorado Springs, CO.
Having served in the industry since 2003, our team at Equipment Maintenance Technicians understands that time is of essence to our clients. With this in mind, our factory-trained technicians adhere to a time- and cost-effective repair and maintenance program to keep your equipment in optimal condition.
Here are the services we offer: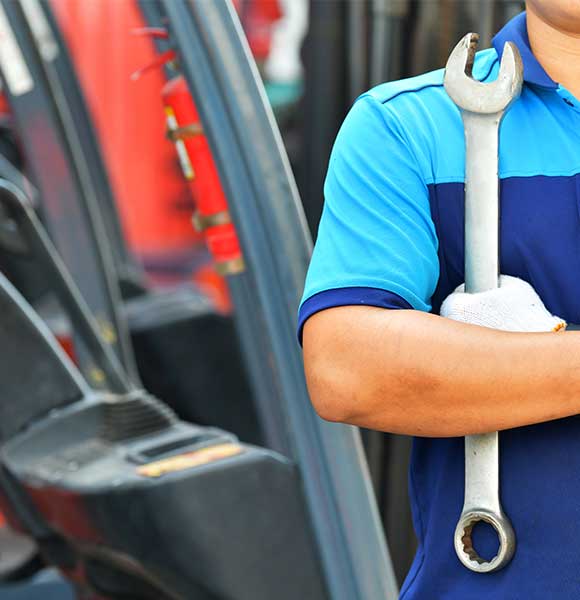 Maintaining your material handling equipment's condition prevents it from breaking down even on the busiest days of your business operations. At EMT, we offer a material handling equipment maintenance program to ensure that all routinely planned services are conducted on time. To do this, our reliable team of technicians would visit your facility regularly and conduct MHE maintenance procedures like oil changes and checking for signs of damage.
We are well-trained in maintaining different types of forklifts such as the rough terrain, warehouse, straight mast, and telehandler. We also familiarize ourselves with different forklift brands like Daewoo, Gradall, Hyster, Toyota, Skytrack, Lull, JLG, and CAT.
In addition, we work with the following MHE:
Automatic Guided Vehicle
Conveyors
Counterbalanced Lift Truck
Hand Truck
Narrow-aisle Reach Truck
Narrow-aisle Straddled Truck
Order Picker
Pallet Jack
Pallet Truck
Platform Truck
Pallet Jack
Personnel and Burden Carrier
Tractor-trailer
Sideloader
Turret Truck
Walkie Stacker
Over time, your material handling systems in Colorado Springs, CO, is likely to experience breakdowns and failure due to unavoidable circumstances. You don't want to experience having a faulty MHE in the middle of operations. To prevent this, our skilled MHE mechanics are here to assist you with your needs for MHE repair services.
Our team is equipped with service trucks that can handle even the most complicated issues. We also have quick access to a lot of boom lift system parts and components. If you encounter any signs of repair needs, don't hesitate to give us a call.
Ensure smooth business operations with well-optimized material handling equipment maintained by our experts.
For inquiries about our services for material handling in Colorado Springs, CO, contact our experts today.