Aerial Lifts Repair in Denver, CO
EMT is fully insured and provides mobile maintenance for all your maintenance repair needs anywhere in the state of Colorado.
Regular inspections are ideal for keeping your aerial lift running efficiently and for the long term.
Maintaining productivity while working at great heights can be a challenging job. For this reason, aerial lifts are considered a great asset in completing various tasks such as painting buildings, maintaining homes, and servicing cables.
To ensure the utmost safety of your team while onboard these platforms, proactive maintenance for aerial lifts in Denver, CO, is imperative. Maintenance services are especially critical for aerial lifts. Accidents like falls or electrocutions are a looming possibility when working with heavy equipment machinery, but you can steer clear of these risky situations by having your aerial lifts inspected by expert technicians.
Our team at Equipment Maintenance Technicians (EMT) offers a reliable repair and maintenance service for aerial boom lifts in Denver, CO. With the help of our factory-trained mechanics, we deliver prompt and professional repair, maintenance, and inspection services for different types of equipment, including aerial lifts.
Signs That Your Aerial Lift Needs Service
Issues concerning aerial lifts in Denver, CO, often result in mishaps that are usually fatal. Some of the most common injuries experienced by workers after falling from an elevated platform include broken joints and even paralysis. An important part of improving hydraulic safety is to understand the possible causes of these consequences. Among them are:
Defective Boom-Swing Mechanism
The boom-swing mechanism is important for the smooth operation of your aerial lifts when suspended in the air, especially if it is in close proximity to dangerous working conditions like power lines.
Boom-swing malfunctions usually result from faulty valve activation. This may lead the platform to lunge unexpectedly, which is dangerous, especially if the worker is near a power line. If this occurs, refrain from using the machinery and have the boom-swing diagnosed, tested, repaired, and inspected by experts for aerial lift repair in Denver, CO.
An aerial lift needs to be secured with guardrails to keep workers from stepping too far when suspended at great heights. To ensure that it is safe and stable for use, the platform itself should be tightly secured to the lifting carriage or fork to prevent it from tilting sideways or forward. To ensure its utmost safety, have the platform inspected by expert maintenance technicians.
Your equipment's hydraulic lift system should not be lowered quicker than 135 feet per minute. If your aerial lift fails, it needs to be lowered slowly to the ground, at an average of 135 feet speed limit. Whether it is working properly or is malfunctioning, it should perform without exceeding the said speed limit in any situation.
Faulty Cylinder Replacement
Cylinder replacement can be a dangerous task on a machine, especially when the cylinder can only be accessed with a slightly elevated platform. This scenario calls for the help of a knowledgeable maintenance expert. It is also important for workers to be informed of how the cylinder supports the platform during maintenance tasks to avoid major injuries.
Why Choose Equipment Maintenance Technicians
Equipment Maintenance Technicians comes with a combined 90 years of experience in the repair and maintenance of heavy equipment and machinery. We're located in Aurora and Castle Rock, and our field services are made available in the entire Denver Metro Area, Fort Collins, the Front Range, down to Colorado Springs.
With over 17 years of experience, our team has remained committed to providing quality services that ensure long-term equipment life and improved functionality. We are experienced with all types of construction equipment and fleet vehicles.
As a trusted service provider for aerial lift repair in Denver, CO, we strive to keep ourselves updated with the current trends in equipment maintenance. In addition, we employ only the most advanced equipment for accurate and precise diagnostics and services, and to make sure our team can perform their tasks efficiently and accurately with these tools, we provide continual training for all our in-house maintenance technicians.
One of our top priorities is customer service. That's why we stay true to offering premium services for aerial lifts in Denver, CO, at a competitive price. Whether you're in need of an annual inspection, preventive maintenance, or repairs, we guarantee that you're dealing with experts in the industry.
Our Aerial Lift Maintenance and Repair Services
To ensure that your lift is functioning correctly, our aerial lift maintenance and repair services are kept up to par with the standards set by the Occupational Safety and Health Administration (OSHA) and the American National Standards Institute (ANSI). With our help, you'll never run the risk of putting the safety of your aerial lift operators and workers in jeopardy.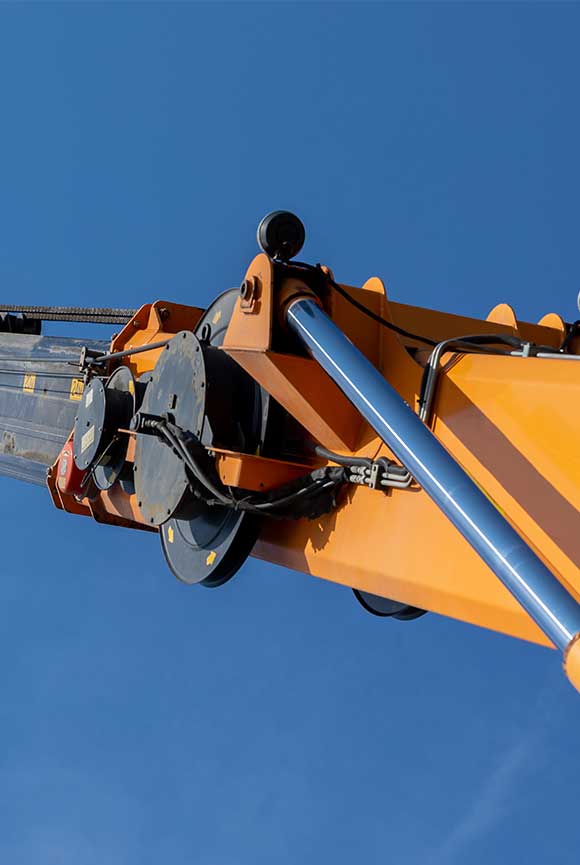 Platform equipment like aerial lifts is essential for aerial safety and accessibility. The best way to keep your aerial lifts free from defects or break down is to have our maintenance experts for aerial lifts in Denver, CO, inspect and maintain your machinery regularly.
At EMT, we employ a reliable aerial equipment maintenance program that ensures your equipment receives the proper care that it needs. Here, our technicians will regularly visit your facility to inspect your aerial lift and conduct various maintenance procedures to ensure each part of it is in tip-top condition and safe to use. With our mobile maintenance service, you can lessen the possibility of having defective equipment and related accidents in the field.
Our trained technicians can also help you with other types of aerial equipment, including:
Bucket Trucks
Articulated Boom Lifts
Telescoping Boom Lifts
Scissor Lifts
Platform truck
Towable Lifts
Vertical Lifts
Man Lifts
 
For instances that involve equipment failure, you can rely on EMT as your dependable mechanic. We provide immediate repair services with our Mobile Mechanic Service. With just a phone call away, our technicians are ready to respond as quickly as they can and arrive at your facility within 90 minutes after the call.
In addition, we offer aerial equipment inspections, which you can avail of on an emergency, one-off, or scheduled basis.
Trust EMT for Efficient Aerial Lift Repair and Maintenance Services
Secure the utmost safety of your team by keeping your aerial boom lift well-maintained.
As a long-standing equipment maintenance and repair service provider since 2003, Equipment Maintenance Technicians is your partner in ensuring the safety of your business operations. Our factory-trained technicians employ an effective repair and maintenance program to help keep your engine running smoothly even in the busiest operations. To learn more about our time- and cost-effective services for your aerial lift in Denver, CO, contact us today.